If you're looking to create an audiobook, listen up!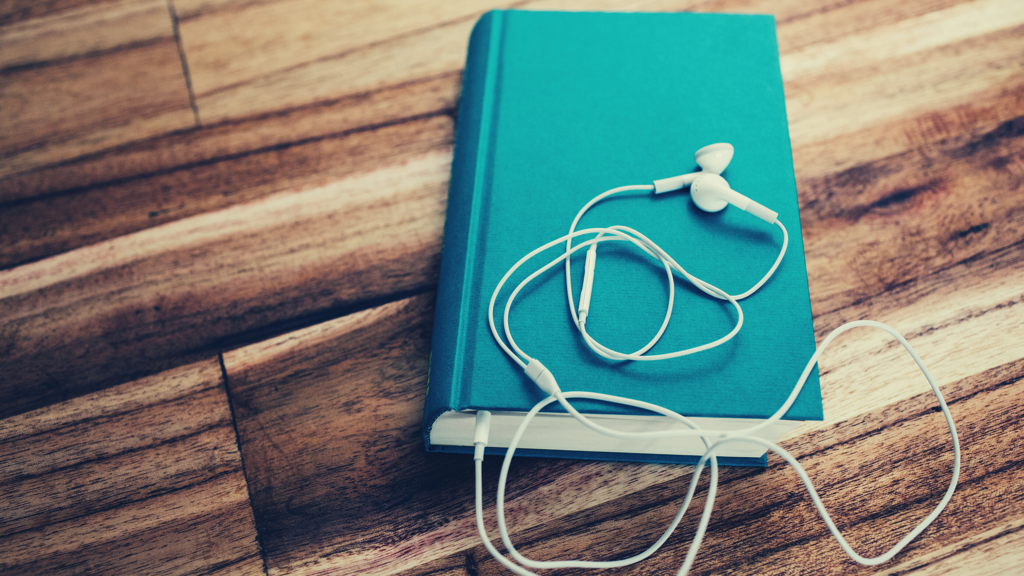 Audiobooks are becoming increasingly popular, and you can reach a new audience with the right strategy. These have become one of the most popular ways to consume content these days. People love listening to them while commuting, working out, or even just relaxinThisme.
If you are looking into turning your book into audio or have a message you want to get out there, creating an audiobook is a great way to do it.
This blog post will show you how to create an audiobook and keep your audience hooked.
Estimated reading time: 7 minutes
The popularity of audiobooks in the 21st century
Like podcasts, people love audiobooks because they can consume content while doing other things.
It's a great way to "read" a book while still being able to do other things like driving, working out, or even cleaning the house.
The whole ordeal with audiobooks becoming popular is undeniable. Research by the American Association of School Librarians found that in 2016, audiobook sales had increased by 23% since 2015. It is now the fastest-growing part of the book industry.
Five years from now, in 2027, it is projected that the audiobook industry will be worth $ 19.39 billion.
This goes to show how much potential there is in creating audiobooks. They are becoming more and more popular, and people are also willing to spend money on them.
With technological advances, it's now an excellent gateway to selling books in digital forms, and it's easier than ever to listen to audiobooks. You can download them onto your phone or tablet and listen on the go. There are a few critical reasons for this increase in popularity.
People are also busier than ever before and often don't have time to sit down and read a book. Listening to an audiobook is a great way to consume content while doing other things.
Another reason for the increase in audiobook popularity is that they're just plain old enjoyable. A lot of people find them more entertaining than reading a physical book.
Audiobooks are also great for people who have trouble reading or don't like to read. They can listen to the story and follow along with that way.
Benefits of audiobooks
There are many benefits of creating an audiobook.
First, it's a great way to reach a new audience. If people don't have time to read your book, they might be more likely to listen to it.
It's also a great way to build your brand and platform. When you create an audiobook, you're putting your name out there and increasing your visibility.
If you're looking to build credibility, an audiobook can also help with that. When people see that you've turned your book into one, they'll view you as an authority in your field.
Another great benefit of audiobooks is that they're evergreen. This means that they have the potential to generate income for years to come. Once you create an audiobook, it can keep selling and bringing in money long after you've created it.
Of course, there are also some personal benefits to creating an audiobook. It's a great way to build your confidence and get over any stage fright you might have. It's also a fun, creative outlet and can be very satisfying to see your work come to life.
And lastly, it can be a great way to connect with your audience and build deeper relationships with them. When you narrate your audiobook, people will feel like they know you and have a connection with you.
How To Create An Audiobook
Audiobooks are a great way to enjoy a story on your commute or while relaxing at home. However, if you don't create one that's captivating and keeps your audience hooked, they may not stick around for the end.
Here are some tips on how to create an audiobook version of your books that will keep your audience engaged:
1. Choose the right book
The first step is to choose the right book.
If your book is dense with many descriptions, it might not translate well into an audiobook.
Choosing a book that will hold people's attention and keep them engaged is essential. A good audiobook is one that people can easily follow and doesn't require too much concentration.
If you're unsure which book to choose, ask yourself this question: would I want to listen to this book?
If the answer is no, then it's probably not the right book for an audiobook.
2. Write a Good Script When You Create An Audiobook
Once you have your title, it's time to start writing your script. This is considered the outline of your work.
When you're writing your script, remember that people will be listening to your book, not reading it. This means you need to pay attention to the flow and pacing of your story.
Make sure each chapter flows into the next and that your story has a natural progression. Also, remember that people's attention spans are shorter when they're listening to an audiobook than when they're reading one.
This means you must ensure your chapters are shorter and to the point. Otherwise, you risk losing your audience's attention.
3. Get creative with Your Audio Editing and Sound Effects
If you have books with complex storylines or detailed scenes, consider how your audio editing and sound effects will help enhance the listening experience.
You don't want your audiobook to sound rushed or amateurish, so take time to perfect these elements before you start recording.
4. Keep it Short and Sweet
Audiobooks are ideal for short listening sessions, so ensure your audiobook is as concise as possible without sacrificing important details. This gives your audience a tighter narrative they won't be able to put down quickly.
If your book is on the longer side, consider splitting it into multiple volumes. This will make it more digestible for your audience and increase the chances of them finishing the entire series.
5. Make Sure Your Audiobook Is Well Recorded
Many great audio recording studios are available online or in some major cities, so don't hesitate to get started if you need help choosing a studio or hiring an engineer/producer.
However, make sure you choose someone who has experience producing audiobooks and knows how to capture expert sound quality without spending too much money on equipment or editing hours later on down the line.
You want your audiobook to sound polished and professional, so make sure you put in the time to find the proper recording studio and engineer for the job.
Conclusion
Creating an audiobook can be a great way to reach new audiences and grow your fan base. However, it's important to remember that not all books make for good audiobooks.
When you're choosing which book to turn into an audiobook, keep in mind the listening experience. Write a good script, get creative with your audio editing and sound effects, and keep it short and sweet.
Lastly, make sure your audiobook is well recorded by choosing a reputable recording studio and engineer. By following these tips, you'll be on your way to creating an audiobook that will captivate your audience from beginning to end.
Audiobooks are booming and there's no reason you shouldn't be taking advantage of this trend. By following the simple steps in this article, you can create your own audiobook and gather more listeners to increase sales.
Don't hesitate to reach out at bestsellingbook.com if you have any questions or need help getting started – we have a team of experts who would be more than happy to assist you on your journey towards bestselling status. Thanks for reading!
For more helpful content on becoming a better author, check out my articles: 5 Reasons Why You Need An Author Website and 7 best practices to start a business as an author. Make sure to visit our website today at BestsellingBook.com!